This newsletter is part of the Crashing Up subscription e-newsletter, curated by Randy Ginsburg. Subscribe to the newsletter here.
🏈Betting on Barstool
On January 29th, 2020, regional gaming operator Penn National Gaming purchased a 36% stake in Barstool Sports. Penn National operates 43 properties across 19 states and Canada, primarily servicing customers in their 50s. With the impending legalization of sports betting in most states, this was a strategic move designed to tap into Barstool's massive audience of loyal millennial and Gen Z supporters.
When the Penn/Barstool deal officially went live, Penn CEO Jay Snowden outwardly raved about the customer acquisition value that the partnership brings.
"…With 66 million monthly unique visitors, we believe the significant reach of Barstool Sports and loyalty of its audience will lead to meaningful reductions in customer acquisition and promotional costs for our sports betting and online products, significantly enhancing profitability and driving value for our shareholders."
If there's one thing that Barstool founder Dave Portnoy knows how to do, it's capture attention. Even better, he's an expert at retaining this attention and monetizing it. As the attention economy continues to flourish, this is a very valuable skillset. Over the last 20 years, Barstool has amassed a raving audience of 66 million "Stoolies," many of whom live and die by Barstool's content and values. Partnering with a massive casino operator was the perfect move for Barstool to take its business to the next level. Stoolies already love watching sports and watching the Barstool employees bet on them, so why not create a platform where the Stoolies can bet themselves via a Barstool branded sportsbook?
This was the idea from the start and after a three-day test period the Barstool Sportsbook app officially launched in Pennsylvania on September 18th.
The Numbers
Quickly after launching, the app became the number one sports app on the Apple App Store. On September 24th, Penn announced that the app had already been downloaded over 180,000 times nationwide. As expected, Barstool built and the Stoolies came, smashing the single day and weekend launch numbers of competitors like FanDuel and DraftKings.
It's important to note that although this number is mind-blowing, not all of these downloads are monetizable…yet. Only 35,000 downloads (between soft and hard launch) took place in Pennsylvania. Of those 35,000, over 12,000 were first-time depositors (FTDs) who helped the app to rake in over $11 million in bets in the first four days.
The Barstool Difference
Like many other sportsbooks and the nine other online competitors in Pennsylvania, Barstool Sportsbook offers standard and live wagering options such as multi-sport and team parlays, spreads, moneylines, futures, round robins, teasers and prop bets. But in typical Barstool fashion there are a few additions that make it stand out:
Barstool Personality Picks and Parlays: Daily opportunities to bet with or against the Barstool team.Aside from its audience, Barstool's most valuable asset is its talent. These bets are a great way to continue to build brand affinity with its employees and Barstool in general. Barstool has always lived by the motto "For the Common Man, By the Common Man" No matter how big Dave, Big Cat, PFT, Marty Mush or any of the Barstool talent gets, they will always remain as "common men." This feature illustrates exactly that.
Quick Pick 6: A random, system-generated, 6-leg parlay of multiple sports and bet types, where bettors can control the legs and the wager.
Daily Odds Boosts: Select bets will be offered at tilted odds to entice bettors. This certainly does not mean they'll always win, but it's a nice and attractive gesture.
Lastly, the app has a "Move the Line" scroller that allows users to buy and sell points on the spread by using a scroller button.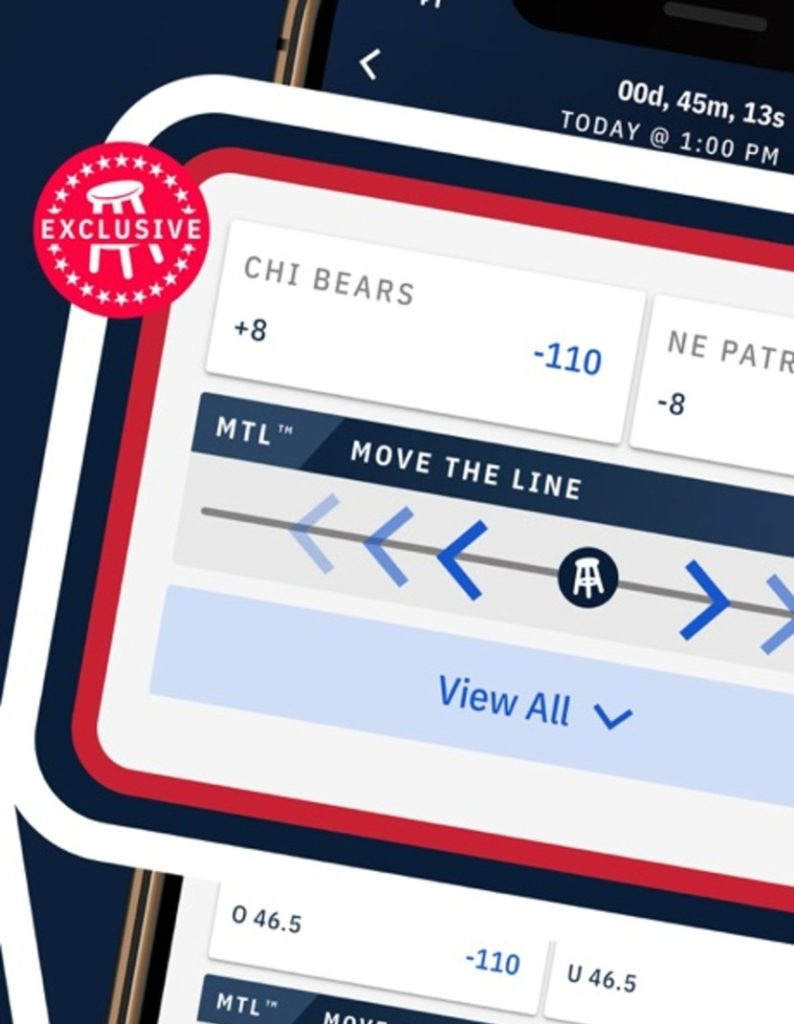 The Competitive Landscape
Since the announcement of the Penn deal, digital sportsbook operators have taken notice of Barstool's playbook. Acknowledging the value behind having a media icon as the face of your brand, competitors like FanDuel, DraftKings, and MGMBet have raced to ink partnership deals or relationships with notable names. Within the last month, FanDuel has announced a partnership with ex-Colts punter, ex-Barstool employee and current media star Pat McAfee, DraftKings announced that well-known gambler Michael Jordan would be a special advisor to the board, and BetMGM hired Jamie Foxx as the face of the "King of Sportsbooks" campaign.
I found this last one confusing considering most people wouldn't traditionally associate Jamie Foxx with sports gambling. This could be a play to appeal to the African American demographic, as Dave Portnoy's and Pat McAfee's audiences have historically skewed predominantly white. I can't confirm that this logic is behind the partnership, but if so, it would make a lot of sense.
What's Next?
At the time of the Penn/Barstool partnership announcement, Penn's stock sat at around $25 per share. Prodded by Dave Portnoy aka Davey Day Trader's obsessive promotion of the stock, it jumped to $38.28 in February, only to plummet to $4 during the peak of the coronavirus downturn.
This is the part where I start to tear up for foolishly not investing despite writing about how incredible of a company Barstool is.
Since its March low, Penn stock has skyrocketed to a 52-week high of over $76 per share. Since that high, it's settled to slightly under $70. Play your cards right and you can retire off of a trade like that.
With the bulk of its downloads coming outside of Pennsylvania, Barstool is successfully expanding its market, while also building market share in the state of Pennsylvania. Early reports indicate that it's already snapped up low double digital market share which is expected to grow with time. With its first full month of earnings coming in October, it will be exciting to see how Barstool fares with its competitors. I'm much more of a bettor than a stock advisor, but if there's one thing I've learned, it's to not bet against Dave Portnoy. Year after year he promises and delivers in grand fashion.
My prediction(s) by 2030: Dave and Barstool will lead Penn to become the go-to market share leader in both online and in-person sports betting. It will be impossible to go to a casino or stadium without seeing Barstool's logo plastered somewhere. There will be a Barstool branded stadium.
Let's see how well this ages.
---
📈 Investing in Public
Ever wondered how much money you could have made if you invested in Penn when it was at four dollars? No? Only me? What about Google or Apple when they IPO'd?
Chances are that if it's not any of these, there's another stock opportunity that you wish you could go back in time and capitalize on. Of course hindsight is 20/20, but this is always something I've had fun looking at.
A few weeks ago, I came across the Ticker Time Machine.
Plug in any stock, date, and investment amount and you can see how much your investment would be worth today. Did you know that if you invested $10,000 in Google a decade ago, you would have more than $300,000 today?
This tool was put together by Public, an awesome app designed to make stock investing more social. Like Robinhood, users can invest in fractional (or full) shares of stocks and ETFs, but with Public you can follow investors and friends, see their portfolios, and learn from community group chats with fellow investors. Here's a video that breaks down Public's mission a bit further:
For a full list of features and uses, click here.
What's one investment you wish you've made? What stock are you most bullish on? Which do you think is overvalued? Let me know by replying to this email or leaving a comment below.
---
🎙️Friday Features
Over the last few months (and based on popular demand), I've hinted at incorporating guest interviews into the newsletters. Now it's finally happening. I'm excited to announce a new segment of the newsletter called Friday Features.
Over the course of each week, I'll be interviewing some of the smartest, most innovative minds I can find and will share our conversations with you every Friday. The audio will be embedded in a podcast format as part of your weekly Friday Fuel and in addition, a full write-up will be available on my site (randymginsburg.com).
This is something I've been planning out for a while and I can't wait to get the ball rolling. I've already lined up some great guests, some of whom I've written about in past newsletters, who are excited to share their insights and experiences with all of you.
Here's where you can help: If there's someone you'd like to hear from or you think would be a good fit for the segment, please let me know. Reply to this email, shoot me a DM, or leave a comment on this thread. Whatever and whoever it is, I will try my best to make it a reality.
If you've been enjoying what you've been reading, I'd love if you shared this with your smartest and most insightful friends, family, and co-workers. Crashing Up has been growing rapidly over the last few months and I want to keep the momentum going.
If you're new here and want to catch up on some old editions, here are a couple of my favorites: Cash is King and Live From the Bubble.You can also follow me on Twitter.
Thanks for reading and see you on Friday,
Randy