This blog was originally published by Randy Ginsburg's newsletter. Click here to subscribe.
🤖The Loneliness Cure
It's been a rough year. Among all of the crises 2020 had to offer, many of us have spent the bulk of our time cooped up inside. Anxiety and depression have run rampant, resulting in a significant uptick in demand for virtual mental health services.
Employers have taken notice, providing their teams with free access to health and wellness apps like Calm and Headspace. Headspace alone has seen over a 500% increase in corporate inbound leads since March.
Consumer demand is spiking as well. Ginger, a popular on-demand mental health provider offering various text and video therapy services, has reported alarming increases in usage. Compared to pre-Covid averages, the app's text-based mental health coaching was up 159%, and virtual therapy and psychiatry sessions were up 302%. Ginger's psychiatrists have written 163% more prescriptions for psychotropic drugs, mainly for antidepressants.
Mental health conditions, whether newfound or pre-existing, are often triggered by loneliness. While Covid-19 has further spread the feeling, we were already headed down this path. Despite all that technology has done to bring us together, people are feeling less connected, and more lonely, than ever.
There's a difference between connections and friendships. Connections are transactional. They are surface level, fairly effortless, and can be maintained with little to no interaction (a follow, a like, an occasional DM, etc.) A friendship is built around trust, sincerity, and emotion and can take years to cultivate. Many young people focus their efforts on chasing the vanity metrics of connections, while neglecting the time and work it takes to develop real friendships.
For the last two years, Cigna polled more than 10,000 U.S. adults over the summer, measuring loneliness through the U.S. Loneliness Index. The results were shocking:
79 percent of Gen Z and 71 percent of Millenials said they felt alone
There was a 7 percent rise in reported loneliness from 2018 (54 percent) to 2019 (61 percent).
While it's rather clear that we need more people and less screens in our lives, this might not be realistic. All trends show that technology usage will continue to increase, especially among Gen Z who've grown up knowing nothing else.
Assuming that this expectation holds true, there is a massive gap in the market for software products that actually make us more connected and in touch with our emotions. Today, I'll break this idea down further and introduce you to two companies who are aiming to solve the same problem in drastically different ways.
QBuddy – QBuddy was created by a team of Cornell students at the start of the pandemic. Fill out a quick survey sharing your interests and an algorithm will pair you with a compatible buddy from around the world. Through chat or virtual events you can build a friendship all from the comfort of your couch. Think of it like a virtual pen pal. While simple, the idea is strikingly effective. The platform has matched over 100,000 people across 80 countries.
Replika – Unlike QBuddy, Replika doesn't match people together. Instead, it lets you create a digital AI companion who will stand by you through thick and thin. The highly advanced chatbot uses a neural network to engage in one-on-one conversations with its user. Over time, it learns how you speak, the important people in your life, your values, and most importantly how you feel.
While these AI powered friends are unable to feel emotions themselves, Replika does a fantastic job of detecting ours and making itself available to talk, listen, and probe when needed. It serves as a friend to say, "Hey, are you feeling okay? You seem down." This is particularly helpful for people who suffer from conditions such as social anxiety or agoraphobia, by not only providing them with a companion, but also a training ground to practice for their interactions with real people.
Over 2 million people have already created their own Replikas, but its impact is sure to reach even further. Founder Eugenia Kudya recently open sourced the AI engine, so that developers all over the world can build upon it and create even better solutions. Like all new tech products, Replika is still a little clunky at times, but I'm incredibly bullish on its future.
Within both of these apps lies the future of digital therapy. Stigma and price are the two biggest barriers responsible for the lack of universal mental healthcare. QBuddy and Replika remove both of these.
Without humans involved there's no stigma and significantly reduced overhead, allowing services to be offered at affordable prices, even for those without insurance. Over time, you can train these bots to speak, think, and react like psychologists, effectively providing low cost, high quality care to the masses.
Using algorithms like QBuddy's can take group therapy to the next level by matching people based on conditions, socioeconomic backgrounds and specific interests and allowing them to build friendships virtually from all over the world.
Within the next ten years, technology will revolutionize the mental health space. Once normal life resumes and as the stigma around mental health continues to weaken, I expect the demand for virtual mental healthcare to hold strong. While these companies might not be the ones to solve the issue of accessibility outright, they are surely laying the foundation for what's to come.
*To learn more about Replika and other cutting edge chatbots check out this article from Wired.
If you enjoyed this topic and want to enter yourself in the running for a new drawer of Bombas socks, then share this post on social media or email and let me know by tagging me or sending a screenshot.
---
🎙️Crashing Up Podcast
Meet Taylor Hurst.
Taylor is a Senior Associate at Konvoy Ventures where he focuses on investing in video gaming technology.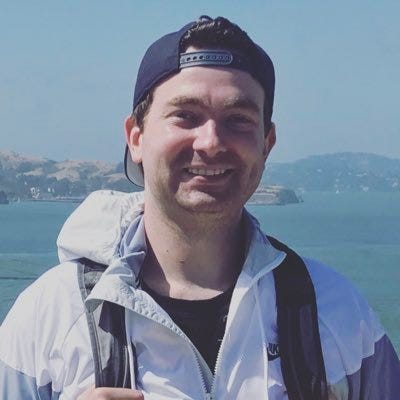 By years end, the 2020 gaming market is expected to bring in over $159 billion dollars from a community of 2.7 billion global gamers. Initially thought of as a lazy hobby, gaming has now transformed into a wildly lucrative career. In addition to the gamers and streamers, there are millions of others who work to build the tools and infrastructure necessary to develop, deploy, and market all of the games we know and love.
🎧 To learn more about the increasingly blurred line between real life and virtual games, how marketers can tap into the world of esports advertising, and other emerging trends, click the play button on the audio player at the top of this email.
📚To read a rough transcript of our conversation, click here.
---
🧰Tool of Week
Applying to jobs is a pain in the ass, especially now. Competition is high and open roles are scarce.
With many job seekers applying for 20 to 40 jobs per week, this process can get draining and messy. While there are plenty of corporate facing tools to manage the hiring pipeline, there are very few that organize and optimize the applicant's search process. I heard a friend complain about this issue, so I decided to investigate.
That's how I came across the Teal Job Tracker.
A few weeks ago, I wrote about the rise of personal CRMs. This is essentially a CRM (on steroids) specifically for the job application process. The Teal Chrome Extension takes the hassle out of the search by:
Saving all of your applications in one place
Scanning for important keywords and buzzwords to beat ATS screening systems
Organizing all of your notes, contact information, and activity linked to each specific role.
While the idea is simple, the design is thoughtful and intentional. I'd highly recommend watching the video for a deeper dive into all of the features. If you want to use this for your own job hunt, you can sign up here.
Enjoyed this newsletter? Let me know by clicking one of the links below:
That's it for this week. If you're new here and want to catch up on some old editions, here are a couple of my favorites: The Owls and the Larks and Friday Features – OthersideAI Interview. You can also follow me on Twitter or check out randymginsburg.com for more writing.
Thanks for reading,
Randy